The history of Japan.

2 vols.

[日本誌 英語版 全2巻]

1728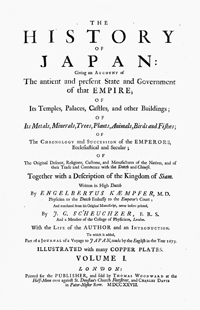 title
THE HISTORY OF JAPAN: Giving an Account of The antient and present State and Government of that EMPIRE; OF Its Temples, Palaces, Castles, and other Buildings; OF Its Metals, Minerals, Trees, Plants, Animals, Birds, and Fishes; OF The Chronology and Succession of the EMPERORS, Ecclesiastical and Secular; OF The Original Descent, Religions, Customs, and Manufactures of the Natives, and of their Trade and Commerce with the Dutch and Chinese. Together with a Description of the Kingdom of Siam. Written in High Dutch by ENGELBERTUS KAEMPFER, M. D. Physician to the Dutch Embassy to the Emperor's Court; And translated from his Original Manuscript, never before printed, By J. G. SCHEUCHZER, F. R. S. And a Member of the College of Physicians, London. With the Life of the AUTHOR and an Introduction. To which is added, Part of a Journal of a Voyage to JAPAN, made by the English in the Year 1673. ILLUSTRATED with many COPPER PLATES. VOLUME I [-II].
imprint
LONDON: Printed for the PUBLISHER, and sold by THOMAS WOODWARD at the Half-Moon over against St. Dunstan's Church Fleetstreet, and CHARLES DAVIS in Pater-Noster Row. MDCCXXVIII [1728].
physical description
VOLUME. I.: (8), 1-11, (11), [i]-lii, [1]-[392], (7) pp. 2to. (355×230mm)
VOLUME. II.: (8), [393]-612, [1]-75,(5),(10)pp. 2to. (355×230mm)

notes
spine title: HISTORY OF JAPAN 1[-2]
binding: leather, round back
condition: reading copy
ex-libris: DIEU AVEC NOUS The Right Honourable Augustus Earl of Berkeley Spring Gardens London.