Letter to the Hon. John M. Clayton.

[ジョン・ミドルトン・クレイトンへの手紙]

1849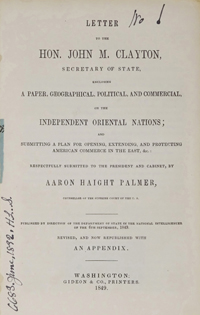 title
LETTER TO THE HON. JOHN M. CLAYTON, SECRETARY OF STATE, ENCLOSING A PAPER, GEOGRAPHICAL, POLITICAL, AND COMMERCIAL, ON THE INDEPENDENT ORIENTAL NATIONS; AND SUBMITTING A PLAN FOR OPENING, EXTENDING, AND PROTECTING AMERICAN COMMERCE IN THE EAST, &c.: RESPECTFULLY SUBMITTED TO THE PRESIDENT AND CABINET, BY AARON HAIGHT PALMER, COUNSELLOR OF THE SUPREME COURT OF THE U.S. PUBLISHED BY DIRECTION OF THE DEPARTMENT OF STATE IN THE NATIONAL INTELLIGENCER OF THE 6TH SEPTEMBER, 1849. REVISED, AND NOW REPUBLISHED WITH AN APPENDIX.
imprint
WASHINGTON: GIDEON & CO., PRINTERS. 1849.
physical description
[1]-3, (1)pp. 8vo. (220×140mm)
notes
binding: swell
condition: reading copy, cover lacking
inscription on title page: 6689. June, 1892, H. L. S.