Translation of a short extract from a journal kept by C. P. Thunberg

[日本滞在記抜粋]

1781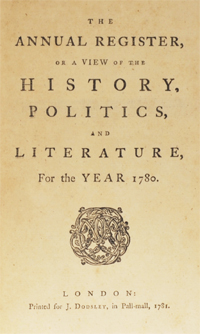 title
Translation of a short Extract from a Journal kept by C. P. Thunberg, M. D. during his Voyage to, and Residence in, the Empire of Japan, in a Letter addressed to the P. R. S. [Translation of a short extract from a journal kept by C. P. Thunberg, M. D. during his voyage to, and residence in, the empire of Japan 66]
imprint
LONDON: Printed for J. DODSLEY, in Pall-mall, 1781.
physical description
(9), 66-71, (5) pp. 4to. (210×130mm)
notes
offprint
series title: THE ANNUAL REGISTER, OR A VIEW OF THE HISTORY, POLITICS, AND LITERATURE, For the YEAR 1780.
half title [ on paper patch]: Translation of a short extract from a journal kept by C. P. Thunberg, M. D. during his voyage to, and residence in, the empire of Japan 66
binding: cardboard, flat back
condition: fine copy
ex-libris: Ex Libris R. A. Scoales No.19.