Voyages and travels in various parts of the world.

2 vols.

[世界周航記 英訳初版]

1813-1814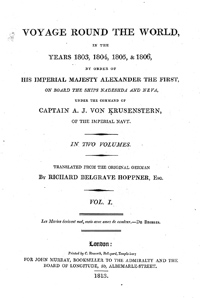 title
VOYAGES AND TRAVELS IN VARIOUS PARTS OF THE WORLD, DURING THE YEARS 1803, 1804, 1805, 1806, AND 1807. BY G. H. VON LANGSDORFF, AULIC COUNSELLOR TO HIS MAJESTY THE EMPEROR OF RUSSIA, CONSUL-GENERAL AT THE BRAZILS, KNIGHT OF THE ORDER OF ST. ANNE, AND MEMBER OF VARIOUS ACADEMIES AND LEARNED SOCIETIES. Illustrated by Engravings from Original Drawings.
imprint
LONDON: PRINTED FOR HENRY COLBURN, ENGLISH AND FOREIGN PUBLIC LIBRARY, CONDUIT-STREET, HANOVER-SQUARE; AND SOLD BY GEORGE GOLDIE, EDINBURGH; AND JOHN CUMMING, DUBLIN. 1813 [-1814].
physical description
PART I: (3), [i]-xxi, (3), [1]-362, (9)pp. 4to. (270×220mm)
PART II: (11), [1]-386, (9)pp. 4to. (270×220mm)

notes
spine title: VOYAGES AND TRAVELS LANGSDORFF VOL. I[-II]
binding: leather, round back
condition: reading copy
ex-libris: J. S.